UPCOMING EVENTS:

Summer Office Hours Now in Effect!
Monday - Thursday, 8:30 a.m. - 12:00 p.m.
The Pastoral Center will be closed on Monday, July 4. There will be no Mass nor Word & Communion Service.
ALTAR SERVER THANK YOU PICNIC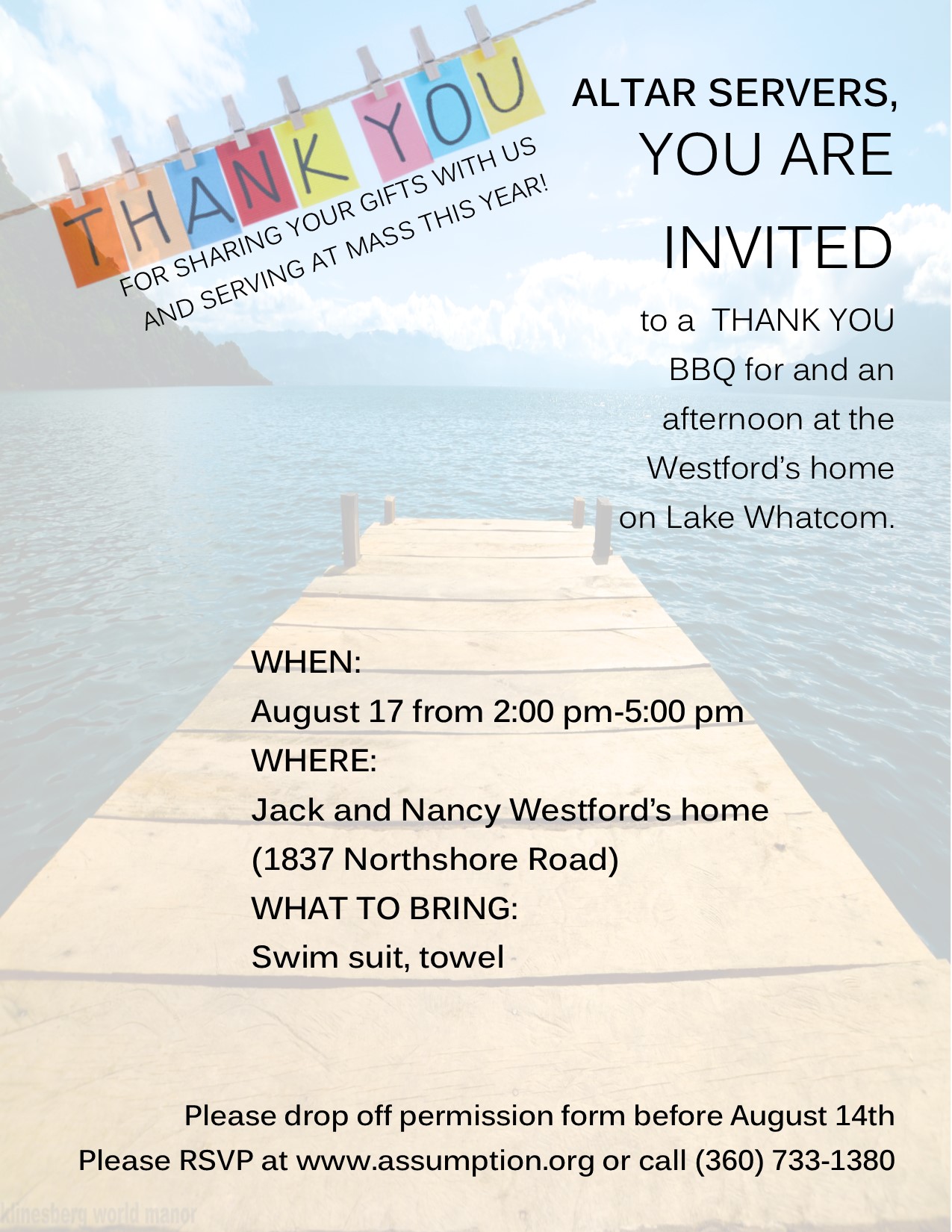 Assumption would like to thank all of our altlar servers for their service to our parish! We will be having a picnic at the Westford home on Lake Whatcom with swimming and boating fun! Altar Server Picnic RSVP. Please RSVP by August 7th. Download permission form
THANK YOU FOR SUPPORTING THE ANNUAL CATHOLIC APPEAL!
Assumption has met it's Archdiocesan goal by providing over $93,000 in pledges to support  more than 60 ministries throughout our Archdiocese. Any new pledges received will go toward the parish goal of purchasing new LED bulbs for the parking lot areas. We are not far off the mark but donations and prayers are still needed. Donating online is quick and easy. Thank you!
ASSUMPTION PARISH NOVENA OF MERCY
Aug. 5-13
Heeding Pope Francis's call to engage in the Jubilee Year of Mercy, everyone is encouraged to participate in our parish's Novena of Mercy, which culminates with our parish-wide celebration of our feast day--the Assumption of the Blessed Virgin Mary--on Aug. 14. Click here for more details on this much-needed novena. 

ASSUMPTION PARISH FEAST DAY CELEBRATION
Sunday, Aug. 14
One Mass only at 11:00 a.m., followed by a parish picnic, a celebration of our volunteers,
greeting new parishioners and staff members, and saying thank you to departing staff members. Please mark the date on your calendar and join us!