UPCOMING EVENTS:

Please mark your calendars:
The Treasure Sale has been moved from Aug. 6 to Aug. 20.

ASSUMPTION SCHOOL NEW HVAC SYSTEM
One of the Capital Campaign's major projects is replacing the School's heating system.Click  to view a slideshow of the work being done in the last few weeks, including removal of the old flue through the chimney!

ASSUMPTION PARISH NOVENA OF MERCY
Aug. 5-13
Heeding Pope Francis's call to engage in the Jubilee Year of Mercy, everyone is encouraged to participate in our parish's Novena of Mercy, which culminates with our parish-wide celebration of our feast day--the Assumption of the Blessed Virgin Mary--on Aug. 14.
Click here for more details in English.
Haga clic aquí por mas detalles en español.


ALTAR SERVER THANK YOU PICNIC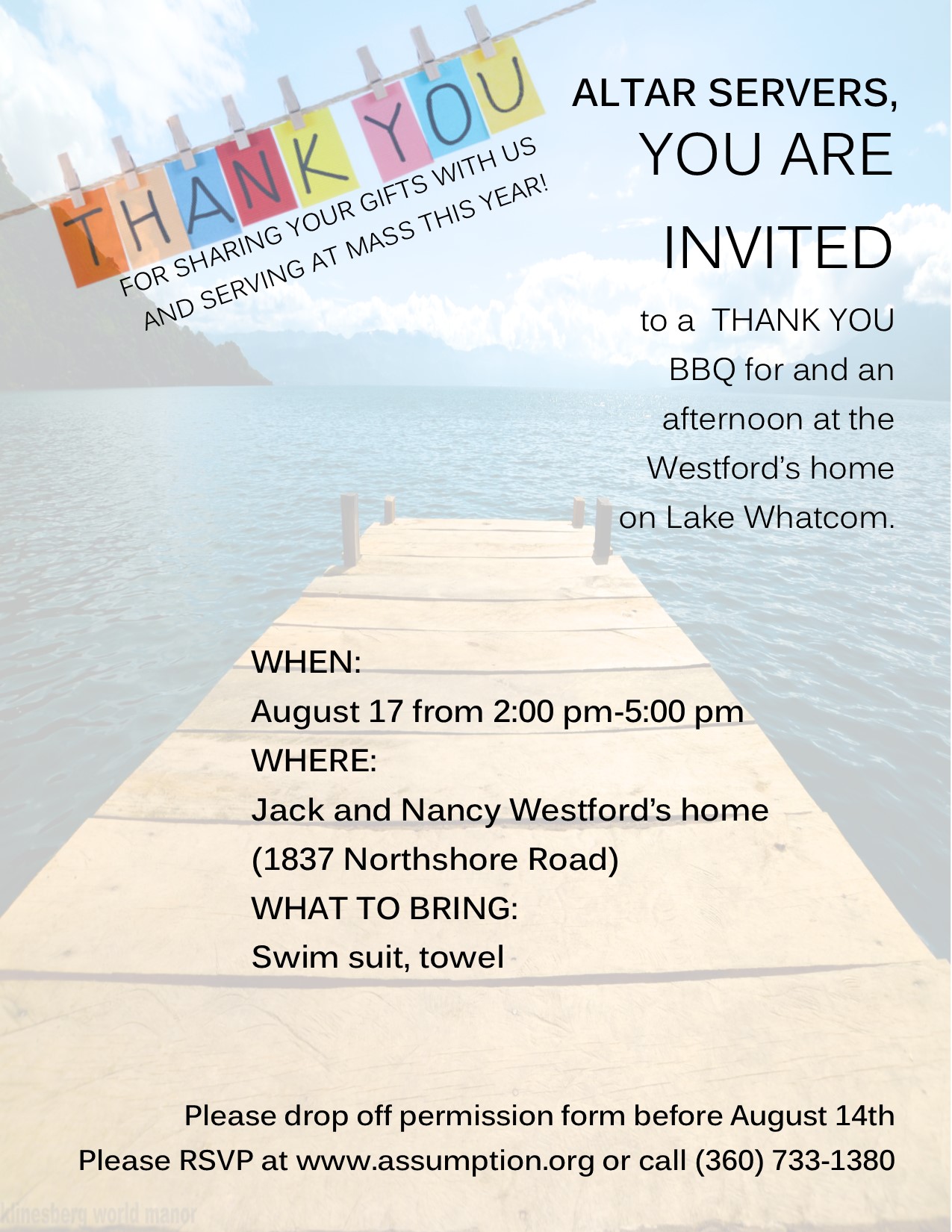 Assumption would like to thank all of our altlar servers for their service to our parish! We will be having a picnic at the Westford home on Lake Whatcom with swimming and boating fun!
Please RSVP by August 14.
Altar Server Picnic RSVP  Download permission form
ASSUMPTION PARISH FEAST DAY CELEBRATION
Sunday, Aug. 14
One Mass only at 11:00 a.m., followed by a parish picnic, a celebration of our volunteers,
greeting new parishioners and staff members, and saying thank you to departing staff members. Please mark the date on your calendar and join us!
PILGRIMAGE TO FRANCE--JULY, 2017
July 3-17, 2017
Join Fr. Scott on this Marian Shrine pilgrimage to multiple sites in France. Click on the itinerary for more details. The registration form can be downloaded as well.